EASIUR: Marginal Social Costs of Emissions in the United States
The Estimating Air pollution Social Impact Using Regression (EASIUR) model is an easy-to-use tool for estimating the social cost (or public health cost) of emissions in the United States. The EASIUR model was derived using regression on a large dataset created by CAMx, a state-of-the-art chemical transport model. The EASIUR closely reproduce the social costs of emissions predicted by full CAMx simulations but without the high computational costs.
This presentation describes the method and applications of EASIUR and APSCA.
Please refer to Getting APSCA and EASIUR for using EASIUR programmatically as well as getting it in the HDF5 format.
EASIUR User's Guide (Updated: 5/21/2015), EASIUR Tutorial (Updated: 5/21/2015) (These two documents are not updated yet for some changes made in EASIUR provided below. Please refer to two papers in the publication page.)
EASIUR marginal social costs [2010 USD/metric ton] are provided in four formats (Updated: 8/21/2015):
Comparion of EASIUR to AP2: EASIUR is compared to AP2, an updated version of APEEP (Updated: 1/22/2016).
EASIUR also estimates intake fraction [ppm]. Let us know if needed.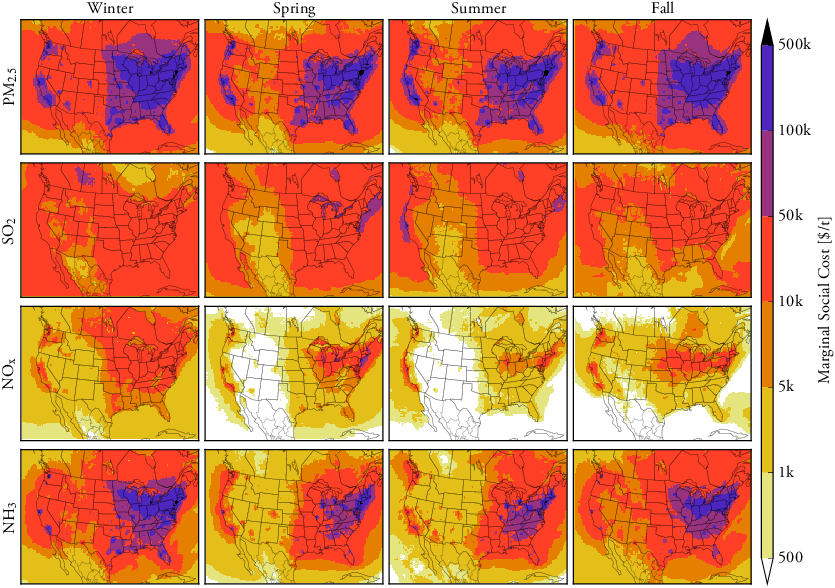 Figure: Marginal social costs at the point of ground-level emissions estimated by EASIUR
(Value of statistical life: $8.6M in 2010 USD, Hazard ratio for a 10-μg/m3: 1.06)
Acknowledgments